Discussion Starter
·
#1
·
Evening all! I'm new to the forum but not BMWs having had a 118d F20 for the past three years so I've come across from the BabyBMW forum.
I've recently had my first child (8 weeks ago) and seeing how much stuff gets carted around, I thought it wise to upsize and upgrade (want to drive around France/Spain with him and the missus next summer.) Bought a F36 M Sport Plus (every extra except memory seats) 420D Gran Coupe in Tanzanite Blue as I wanted to have a bit of practicality but a little sportiness too.
Initial things I have planned are, carbon fibre (potentially Rieger) front splitter, M Performance rear spoiler and Stage 1 remap. Longer term I'm thinking about the instalation of the active sound exhaust (reviews definitely welcome!)
I won't be in the forum too much as work keeps me out if signal range for about 60% of the year. When I am around, I live in Plymouth, England.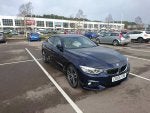 Sent from my E5823 using Tapatalk