Discussion Starter
·
#1
·
When the 4 GC launches it will be offered with similar flavors and options as the 2 door. The three defined packages also carry over. Luxury, Sport and M-Sport. One new color was added, Jatoba.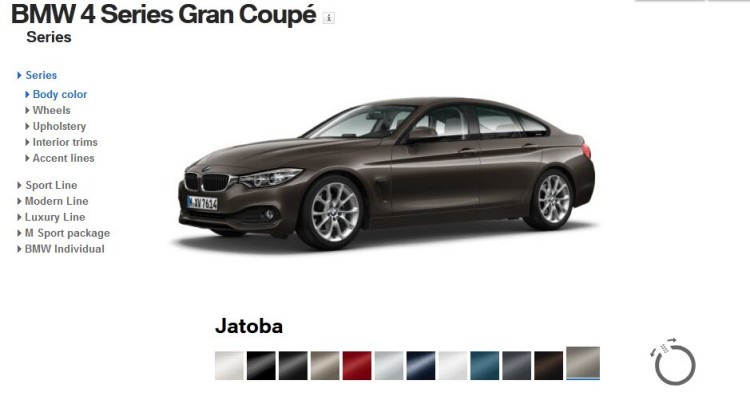 Estoril Blue and Carbon Black are only available through M-Sport.
For non M-Sport you may choose Black, Kalahari Beige, Midnight Blue, Sparkling Brown, Melbourne Red, Imperial Blue, Mineral White and Jatoba.
There are unique colors as well available through BMW Individual: Citrine, Pyrite Brown, Tanzanite, Brilliant White, Moonstone and Frozen Cashmere Silver (matte)
4 Gran Coupe Colors
Alpine White
Black
Glacier Silver Metallic
Midnight Blue Metallic
Kalahari Beige Metallic
Black Sapphire Metallic
Mineral Grey Metallic
Melbourne Red Metallic
Sparkling Brown Metallic
Imperial Blue Brilliant Effect
Mineral White Metallic
Jatoba Metallic
4 Gran Coupe Colors with M Sport Package
Estoril Blue Metallic (exclusive)
Carbon Black Metallic (exclusive)
Mineral Grey Metallic
Glacier Silver Metallic
Black Sapphire Metallic
Alpine White
4 Gran Coupe Colors BMW Individual
Citrine Black Metallic
Pyrite Brown Metallic
Moonstone Metallic
Brilliant White Metallic
Tanzanite Blue Metallic
Frozen Cashmere Silver Metallic